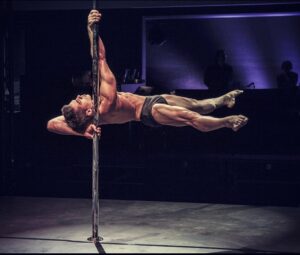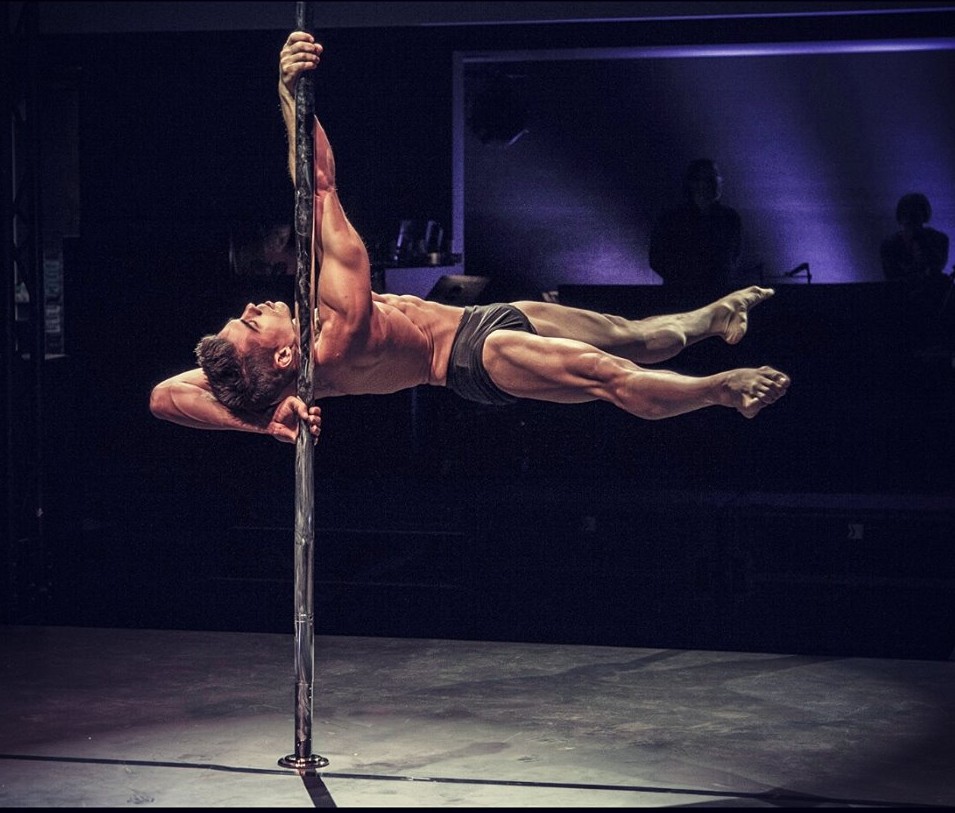 This week's guest artist feature is with the incredible Saulo Sarmiento; professional dance artist, acrobat and gymnast. Saulo has worked on many projects worldwide with well-established choreographers such as Franco Dragone and Giuliano Peparini. Inspired by music, Saulo's solo practice allowed him to create an award winning piece for Pole Art 2012, in just 4 days. Through hard work and dedication, Saulo is now traveling with Cirque Du Soliel, competing in pole dance and judging pole dance competitions in his spare time.
Tell us a bit about yourself.
Born in Canary Island, Spain, and raised around the world I am now 28 and have been an artist since 14 years old. When I was 13, I saw a DVD of Cirque du Soleil, and after this, I just became obsessed to become an acrobat, this goal in mind give me all the motivation that I needed to make it possible. Of course, it was a hard, I had to leave my precious islands and my family, and then find the way to get there. I did many others thing to survive, working in many things and having no time for my personal life…
When did you choreograph your first piece of work?
I have always played even if I didn't have any competition, or shows, so it's hard to say the first one was. But I specially remember creating the pole art 2012 piece 4 days before the competition, it was crazy hard, but I did it!
What tends to stimulate your creative thoughts?
Music is my first creative inspiration; I think I definitely create according to the music.
How do you think your experience as a professional dancer/choreographer has informed your pole practice?
I think I have a strong base as a gymnast, dancer and an acrobat; this all makes a good combination for the pole.
What is your favourite part of the creative process?
When you create new things that fit into the music! I really love that!
What do you find most difficult about choreography and how do you overcome this?
Sometimes you don't find the inspiration, or the right music, or you are just simply tired. But this is normal, everybody has ups and downs!
Who is your biggest inspiration and why?
Giuliano Peparini and Franco Dragone. They are both genius. What they have created is just incredible, they are work separately, but when they work together what they create is just from another world. I am so proud to say that I have worked with them several times. I want to go back with them.
What, if any, do you think are the psychological benefits of creating your own work?
Well, first you feel insecure; maybe what you are making is good but you don't believe so, but when you finish your creation and expose it to audience and get the applause… then all your work is worth it. The feedback is really good to keep improving.
You have a very impressive show reel. Can you tell us about that?
Yes, this is my 2014 resume; it expresses many things from my work. It was one of the best years of my life, although I have worked much more!
What comes first during your process, the pole or the floor movement?
Sometimes the floor and sometimes the pole work, depends.
Since creating your first solo, how do you think you have grown as a choreographer?
I think I still need to learn a lot, sometimes it becomes difficult to take the idea that you have in mind and transfer it into another´s body, and this is the real challenge. I am still working hard for this, and I think it will be like this for a long time.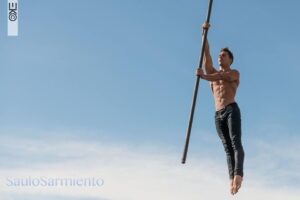 If you could give readers a piece of advice for creating their dance, what would it be?
Be yourself and enjoy the opportunity to create something for you and for your audience.
If you were hiring a dancer to perform your work, what would you look for in them?
The presence on stage, but this is the most difficult thing to find. Then I need to see physical condition and quality of movement.
Finally, what does pole dance do for you?
Difficult question, pole dance has changed my life; it is my life style, even in Canary Island they know me as Saulo the pole guy….
Pole Dance has a big community and is in constant change with how people are challenging themselves. It's a world of motivated people where you can leave your problems at home and do incredible things with your body. Its also a very good way to stay healthy and in shape. Its many good things. I have made very good friends too, and also have the opportunity to travel around the world to amazing places.
To find out more about Saulo's exciting work life and what he is currently up to you can visit his website and YouTube or you can follow him on social media; Twitter and Instagram.