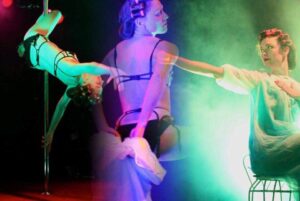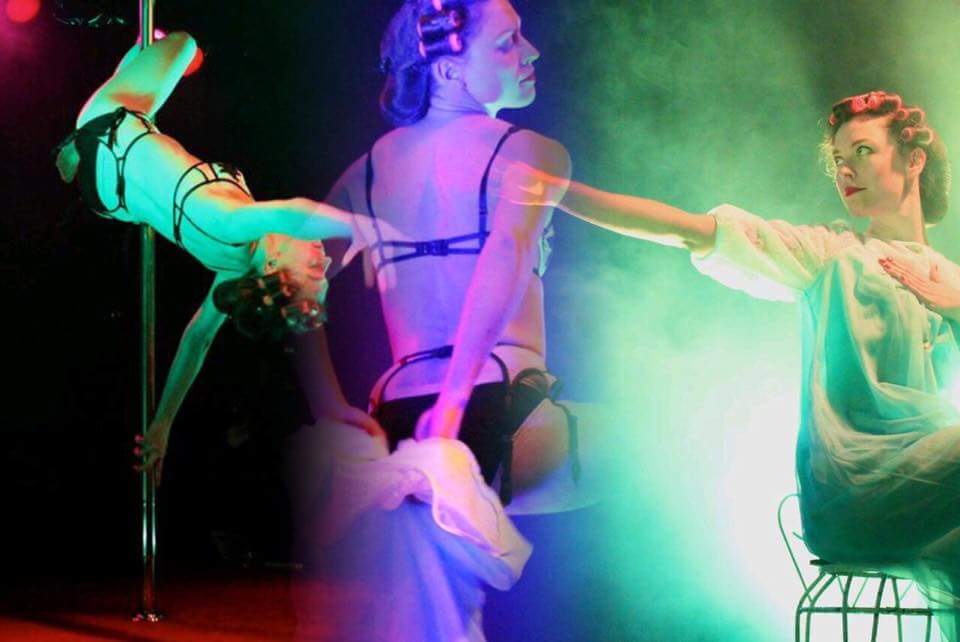 Mel Nutter is a pole dance performer, choreographer and writer based in Sydney, Australia. Her blog offers insightful views into the pole dance industry with topics that range from reading for pole dancers, stage presence, choreography and much more. As a fan of his poetry and prose, Mel's stage name, Baudelaire, is a direct reference to the 19th century French poet, Charles Baudelaire. Mel felt a connection to his outlook on life and creative expression. With an informed view on dance making, this interview makes for a fascinating read.
Tell us a bit about yourself
I grew up in Lithgow, a small country town west of Sydney, Australia. There was, and still is, a big focus on sports in the town. I joined hockey and athletics and was encouraged to be physically active. I always had a hidden childhood dream to dance but the closest I could get was watching rhythmic gymnastics on the television.
When I moved to Sydney as a young adult I started yoga. My instructor for the last 10 years has been Richard James Allen, who also has a strong background in dance. He brings a lyrical flow to his yoga class and I started to fall in love with what my body was able to do. I have not been the strongest or the most flexible, but I found a grace in the vinyasa and a groundedness in the body work and breath practices.
In 2011 a friend started pole dancing and I was in awe of the photos she was posting online. She was twirling around, going upside-down and just glowing! The joy on her face that told me this would be good for me too! I found Art of Pole, a studio run by Jamilla Deville that was just around the corner from our house. Jamilla took our beginners course and I was hooked! I still try and see her whenever she is in Sydney. Her approach to dancing and training, and her stage presence are always something I aspire to.
When did you choreograph your first piece of work?
I choreographed my first solo for the Art of Pole end of year showcase after only dancing for 6 months! Jamilla Deville really fostered a culture of supporting self-expression, no matter how advanced our pole tricks were. The other instructors gave me a skeleton framework for how to piece together some spins and tricks, but then left it up to me. Working within the limitations of my skills definitely influenced the way I choreograph now. A hand gesture or pose can be just as effective in conveying meaning or telling a story, as a crazy flip or deadlift.
I was shaking the first time I performed the piece in rehearsals. It was all of my childhood dreams come true!
What tends to stimulate your creative thoughts?
Music is a huge influence and is usually the starting place for my choreography. However, I have recently been finding ways to write without music as a way to get more in touch with a concept or emotion. The movement then guides what will happen next, rather than a melody. This has widened the scope for possibility and leans itself more to contemporary dance.
How do you think your experience as a professional dancer/choreographer has informed your pole practice?
Approaching a performance from a dance perspective rather than a pole perspective has been hugely important. The pole is a medium to tell a story and enhance the dance. It widens the scope for movement, levels, and scale, and therefore meaning, but the elements of dance must always be present.
What is your favorite part of the creative process?
The first complete run through! Where all the hard work and perseverance clash with the freshness of expressing the routine in its entirety for the first time. Things always need tweaking until the routine is really ready, but there is something in that moment that is really special.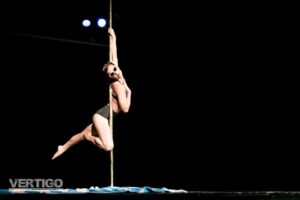 What do you find most difficult about choreography and how do you overcome this?
Finding the balance between what I want my body to do and what it can actually do. This is where inspiration can get in the way – where I love what I saw someone else do, but their leg extensions or strength make it look effortless and graceful, and mine looks clunky or just too subtle.
Overcoming this has meant getting in touch with my own style and listening to my own body. It takes experimentation and time but often leads to more creative results.
Who is your biggest inspiration and why?
I have been following Natasha Wang since I first started watching professional pole dancers. As well as being graceful, strong, and downright amazing, she acknowledges not coming from a dance background, which makes her work inspirational and achievable at the same time.
I love that Sydney attracts such amazing dancers too – Missy, Bailey Hart, and Cynthia Xu are dancers who I get to see and train with regularly. All three are incredible inspirations and it's such a privilege to see their work evolve.
What, if any, do you think are the psychological benefits of creating your own work?
There is an old saying, "if I knew how to say it, I wouldn't have to dance it". I think this relates to many art forms. Because dance is so linked to music, the creative process also allows the dancer say something about the intention of the music, enhancing or adding another dimension to their own personal story. All this leads to a better understanding of emotions, feelings, and the self.
Can you tell us how you prepared for "Black Water" and what your process was like?
The theme for our studio showcase was Beach Party, so I had my ear out for songs and concepts that would suit. Hearing Black Water by Timber Timbre for the first time just made everything fall into place. The relentless down beat and melodic tension immediately screamed Australian summer to me. But then the song was also classy, and a little bit cheeky. I needed a character to reflect all of this, and thus Baudelaire took on a 1950s burlesque aesthetic.
Her movements and poses had to follow, hence the martini sit, dainty teddy spins, and overall polished look. She was never going to bust out an ayesha or a fonji, so I could play with smaller gestures made large by accents in the music – a look, a kiss, a hand placement. It was the floor work and props that took the most time to play with. I had to ask myself how would a 1950's glamourous woman would take off her sunglasses? Or lay out a towel? And then I had to translate those ideas into the dance.
With the routine still in its infancy, I was invited to dance at the 5th Encore! Sydney Pole Show. It was my first big stage solo and I am so glad the performance so strongly reflects my beliefs about choreography, storytelling, and dance.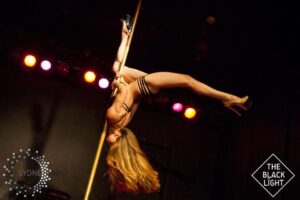 Do you have a particular creative method that you work from?
If I already have my music I will start with music mapping, writing out the beats, changes in tempo, musical elements, and lyrics. With the framework of the song on paper, I can then work out where to add tricks, floorwork, and dance elements to best capture the accents and feeling inherent in the song. I always try and freestyle to the song too and video the practice. There is always something that my body will do that surprises me, and these little motives or spins usually go on to impact the rest of the dance.
What comes first during your process, the pole or the floor movement?
I use a lot of visualisation to create my routines. This starts from the first time I hear the song, to right up until I'm backstage at the performance. In the beginning I might just see a pose, or might be a whole combo. More recently I find myself inspired by other fields of dance, so floor work is coming first.
Since creating your first solo, how do you think you have grown as a choreographer?
My first solo in 2011 was so early in my dance career that I had very few pole tricks to draw from. This was a blessing in disguise, as I have now grown more comfortable creating choreography that is based in feeling and meaning rather than just trick after trick.
If you could give readers a piece of advice for creating their dance, what would it be?
Get in touch with why you want to dance and what the piece means to you. If that means turning the lights down and just dancing it out in your lounge room it can be a great way to start. If you find you just want to dance to show off your new skills that's fine too, but knowing your intention will help underpin the rest of the choices you will make in your choreography.
If you were hiring a dancer to perform your work, what would you look for in them?
I have been choreographing a routine for a friend who is incredibly flexible – splits, back bends, the whole package! It's been so much fun to live vicariously through her as we create the piece together.
In all seriousness, however, I think it all goes back to intention. It's hard to dance something if you haven't felt it in the first place. I would need to find a dancer who can relate to the feeling of the choreography, from their life experience or own personal story. Additionally, someone who is open to letting the dance touch them in this way and bring out their story.
What sort of time frame do you give yourself to create a new piece of work?
I love the freshness of being able to create a routine in a few weeks and then be able to perform it straight away while the energy is still there. Working on a piece for more than about 3 months tends to mean something gets stale, but then again, taking a break and returning to the choreography after some time can work wonders.
Finally, what does pole dance do for you?
It's hard to articulate an answer to this question. Pole dancing has become so much a part of what I do every day. The creative process is forever fulfilling. I hope I always have inspiration to dance!
You can find Mel on Twitter, Facebook, Instagram or you can visit her amazing blog here.
Don't forget to sign up to our Pole Purpose Newsletter for more fascinating interviews.