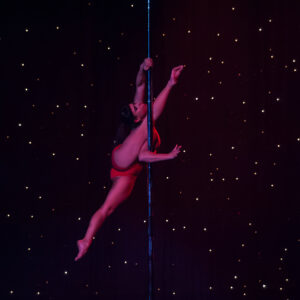 This week at Pole Purpose, I have had the opportunity to interview the fantastic Carolina Ramos. Carolina is an exciting professional choreographer / performer who boasts a BA Hons in Modern dance and has over 12 years of experience in the professional dance industry, combined with an additional 6 years of pole training. You will see from the interview below and through her eye catching performance work that this girl knows choreography and understands how to connect with an audience. Carolina's work originally caught my attention because of the fluidity of the movement both on and off the pole, the seamless transitions and the heart felt performance quality.
After reading this interview, I can honestly say I have become more of a fan. I think Carolina, too, uses dance as a process to enhance self-progression and to express ideas through movement as a painter would with his paint brush.
Tell us a bit about yourself?
My name is Carolina Ramos and I come from Portugal. I guess I just came to this world dancing. As far as I remembered I always wanted to be a dancer and I spent hours dancing by myself in my room. At the age of 5 my parents took me to my first Ballet class. I loved it! I come from a family of artists who always supported and encouraged my artistic creativity. I am a professional dancer since 2003 and I started Pole Dancing six years ago when I felt the need to find something new and challenging to my life.
When did you choreograph your first piece of work?
Creating my own work was always present. I always felt the need to express my own feelings, moving in my own style. I created choreographies when I was studying Modern Dance in University (1999 to 2003). Afterwards, professionally, I travelled and performed my own piece of work to different theatres and countries. In 2011, after one and a half years of Pole Dancing I did my first piece of work that was performed in a Pole Showcase in a beautiful stage.
What tends to stimulate your creative thoughts?
Everything! I get very stimulated by music, by nature (the ocean, the trees…), by photographs, by poems, by movies…
How do you think your experience as a professional dancer has informed your pole practice?
The musicality, moving in a fluid way, the stage presence, the awareness of the body and the posture; all of these things helped me for my pole practice.
What is your favourite part of the creative process?
I guess movement research but also to express emotion and feelings to movement.
What do you find most difficult about choreography and how do you overcome this?
I don't find many difficulties in choreography. This is a process I really love and it is an essential part of my life. Somehow it comes in a natural and spontaneous way. I've studied dance composition and dance improvisation so it has given me lots of tools to help to create.
Who is your biggest inspiration and why?
I don't have just one biggest inspiration. Many people, dancers of all kind of styles, different artists inspire me and all for different reasons. But one thing all of them has in common – to inspire me to be a better dancer and person!
What, if any, do you think are the psychological benefits of creating your own work?
For me it has many benefits. It puts you in touch with who you are, it makes you connects with your soul, to bring authenticity in your movement and it feels great to communicate in your own way to the audience. It feels so good to express yourself!
You sent your IPAF Performance; can you tell us how you prepared for this work and what your process was like?
I started preparing for this work 2 months before. I always wanted to choreograph that music. The song is called "Verdes Anos" by a Portuguese musician called Carlos Paredes. The theme of that Showcase was "Rebirth" and it was exactly what I wanted to communicate and the music suited very well what I wanted to express. I started to just freestyle the song a couple of times to some pole flow movement to just listen what the song was saying to my soul. I am very intuitive and spontaneous so I try to listen what my soul has to say. This is a very important aspect of my work. I started to write on a paper some ideas that I wanted to express, what that piece was about. After I started to choose the pole tricks that I thought would express better my idea. Some tricks were hard for me so it gave me a challenge to conquer them. Then I started to combine them in combos and also to settle the contemporary dance movements (especially floor work). I had to ask for a friend, who is a music composer, to help me the sound effects on the first minute of the piece. I needed a little more time to express my idea better. After one month I had the choreography ready and I needed to clean the movements and the tricks and put in more feelings and dance it with my heart. I like to pay attention to small details, it can be a hand, a movement of the head, a twist of the shoulder and then the whole piece is set together. The last two weeks before I performed it everything was ready and all I needed was to repeat it and clean details and the technical parts and get endurance! On the day of the performance I let my heart speak through my body because my main concern is communicating with the audience.
What comes first during your process, the pole or the floor movement?
It depends on the piece. But I think most of the times the pole comes first.
Since creating your first solo, how do you think you have grown as a choreographer?
I grew a lot! I always try to figure out ways to challenge myself. It is an important part for me. I try to keep studying, to keep improving in my profession and I don't take things for granted. It is important for me to be very clear about my idea and to express it and communicate it in the best way I can, always being authentic and honest to myself.
If you could give readers a piece of advice for creating their dance, what would it be?
I would say study about creative process, dance composition and dance improvisation. Then you have more material to fulfil your ideas and different ways to express and communicate.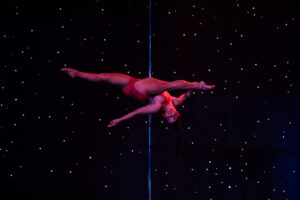 If you were hiring a dancer to perform your work, what would you look for in them?
Definitely I would hire a complete dancer, than means a dancer with great technique, but also with great stage presence and that can dance with their heart, be authentic, honest and true to herself!
What sort of time frame do you give yourself to create a new piece of work?
Well that depends what kind of piece of work and where is going to be presented. For International Pole Art Festival Showcase in Portugal it took me 2 months but for instance for Cabaret Circo Halloween at Armazém 13 (Circus space in Lisbon) it took me one week!
Finally, what does pole dance do for you?
Pole dance makes me feel complete! It has two aspects that I've been working all my life – dance and acrobatics. It gives me a sense of being free and this feeling of flying. But also this feeling of being grounded to the floor. I like this combination of both – earth and wind. It helps me to keep being humble, to keep aspiring to be the best dancer/choreographer I can be, always being honest and authentic.
If you're lucky enough to live in Portugal, you can go train with Carolina at her studio which offers a range of dance classes from pole dance to contemporary dance. Also, as with many pole dancers, her Instagram and Twitter accounts are filled with fluid freestyles and an array of flexible poses that are sure to keep you motivated and inspired to keep pushing your own progression.You can also visit Carolina's website and YouTube Channel to see more of her stunning performance work.
If you like this interview, be sure to sign up to our newsletter so you never have to miss another post.