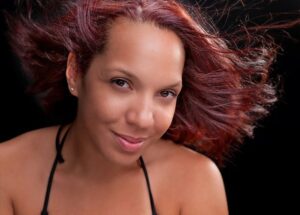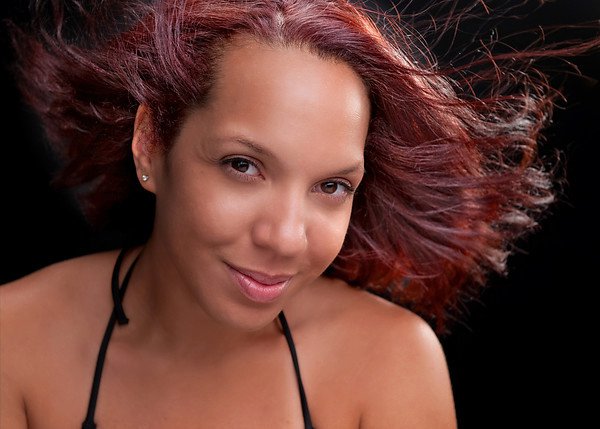 This week on Pole Purpose, we have interviewed the dynamic and versatile choreographer, Marquette Carrington, who has been working in dance since she was a child and has benefited from a variety of training in various disciplines of dance. Marquette has strong opinions on pole dance competitions, and explains how she is heavily influenced by a cultural background. After graduating from the University of Kansas city with a Fine Arts Degree in Dance Performance, Marquette was destined to be a choreographer who is dedicated to freedom of expression and staying true to a personal artistic intent.
Tell us a bit about yourself and your dance background
I was born an army kid. Both of my parents were military and we moved around frequently. I was born outside of Boston, Massachusetts. I spent most of my childhood in Fort Riley, Kansas and Vilseck, Germany. I am now "reluctantly" 33years old. I started dancing in a very unconventional way. While living in Germany our neighbours were a Samoan family. The family was part of a Polynesian Dance Company that travelled around Europe. I joined the company at 9 years old learning to hula, Polynesian dance rituals, and Poi-balls. I would say this was my beginning to the dancer I am now. It is a lot of my influence. I am also the daughter of a black father from New York City and Irish mother from Detroit, MI. I think a lot of my cultural background has influenced the movement I do as well as my attention to choreography. The years following were filled with Latin ballroom classes, African Dance, Classical East Indian dance, as well as typical Ballet, Jazz, Modern, and Hip-hop. Dancing my entire, it made sense to go to college for dance. I always knew I wanted to be an educator and choreographer; learning as many dance styles and choreographic strategies was the best route. I graduated with a Fine Arts Degree in Dance Performance from the University of Kansas.
When did you choreograph your first piece of work?
My 1st piece of work was choreographed when I was 6 years old in my kindergarten talent show. I remember even then knowing that was all I ever wanted to do. My 1st "real" choreographed performance was in High School. I was the captain of my High School dance team. It was Bjork "Oh So Quiet". My father to this day tells me that when I was 3 years old I said I wanted to be a dancer and choreographer. I have never swayed from that.
What tends to stimulate your creative thoughts?       
Music has a huge emphasis on my creative process. I love how it can evoke movement and feelings. However, the setting I am in can also move creative thoughts within me. The way the light shines through a window, the sun through the trees, or even a large dark space. It is amazing how important space can be when you're creating. For this reason, I always think it is important for studio spaces to acknowledge how inspiring their space is to themselves as well as a client coming in for the first time. The power of an amazing training space is something that should be respected and seen as a way to invoke creative stimulation.
How do you think your experience as a professional dancer/choreographer has informed your pole practice?
Being a dancer/choreographer has been so great when it comes to pole. Dancers are not expected or experienced to get "tricks" and combos immediately. It comes with time, patience, and training. It is incredibly helpful in those frustrating times when you're not getting a specific move. As a dancer, you know, with time and training it will happen. When it comes to choreography it has been so helpful in performance. I don't worry about the trick or even the difficulty level in my routine. I want you to watch me and feel some type of way. I want the audience to go on a journey with me. I want them to remember me for the way they felt watching my routine and not for the tricks I did. I find that the dances with the most tricks are the least memorable since there is no real meat, intention or purpose. Some of the simplest routines I have ever done have had so much attention from the audience where women will approach me about classes and training and how they can perform better because at that moment they wanted to feel that way, they wanted to feel like I felt during that performance. It is incredibly powerful to connect with 1 person who doesn't know you but they know they want to feel the way you did at that moment.
What is your favourite part of the creative process?    
My favourite part of the creative process is learning my music. It is so incredibly important to know your music. Don't just hear the counts or lyrics but know every instrument, every dip, every high, If you know your music and know it well you will create a masterpiece. I am obsessed with violins. Especially if it is in an unconventional song like hiphop or rock. That really gets my blood moving.
What do you find most difficult about choreography and how do you overcome this?  
The most difficult part of choreography is having a block. We get fixated in tricks and choreography. I have a lot of performers that will ask me to help them choreograph a floor section. They will skip around and only do the pole sections and get stuck in choreography or floor work. I find this to be incredibly inorganic to skip around and it is easier to get "stuck". Start from the beginning and let it flow into the next move. Don't over concern yourself with floor work to pole work. If you're telling your story it won't matter how much you have of either.
Who is your biggest inspiration and why?
My Son, Harlem, he still sees the world with so much light. He has just started on his dance career with dance classes and is still learning. I am waiting to see if he has the choreography bug. He thinks everything I do is amazing. I could choreograph garbage and he would still be my biggest supporter. He isn't cynical. He literally sees the beauty in everything. It reminds me that once upon a time I was inspired constantly and moved by everything. I am a hard sell now. The dances and performances I love are ones I have loved for years. Oh, and Misty Copeland, because she's Misty Copeland. You can't buy technique like that. She is truly a beast.
What, if any, do you think are the psychological benefits of creating your own work?
I think there are so many psychological benefits to creating your own work. Not only can you benefit from telling your story in an undefined way, but you can also tell someone else story and educate the masses with your artistic expression and movement. I once saw a dance about the holocaust. They didn't do any crazy tricks or hard dance moves. They just walked and stopped and for some reason that moved me. I was there for that moment. I felt it. I have had friends also create dances about their drug addiction. I was lucky and honoured to be part of their dance company and for them I know it was incredibly therapeutic and they were able to share with the world their trials and tribulations without judgement or having to have a conversation about it. After the dance was over a woman came up to me, I represented the "drug" in the dance, she was crying and told me that her brother had struggled with addiction for years. She thanked me. She mentally was with us that night. She took that dance and made it her own. It became her story even though it was someone else's. The connections, performer to audience, you make are so beautiful and so much stronger than you can explain.
You sent us your Pole Theatre USA piece as a favourite performance of yours; can you tell us how you prepared for this work and what your process was like?                                          
I can't say this is my favourite but for me it was the most challenging and rewarding which is way more interesting. At the time I was working with a Denver company called Tease Studio Polettes; A group of pole dancers that just wanted to perform. I chose the song thinking it would fit in great for the Art category in Pole Theatre, USA and this was my 1st choreographed group pole performance routine. It was a lot of working with the dancers individually since there are so many parts. I would choreograph sections at a time and usually end up changing it around the following rehearsal because I have to watch how movement looks on people. Some choreography looks different on different people so you have to pay attention to how things shape and mould. I usually yell quite a bit during rehearsals. Especially if I don't see exactly what I want to happen, even when I know the performers are capable. I also have a huge issue with competitions because I believe if the dancers don't do well it's the choreographers fault and not the dancers. You have to also pay attention to your dancers because they will wear themselves out in order not to disappoint their choreographer which can lead to injuries and burn out. It actually took a couple of weeks to get this one together since there is so much going on. You obsess over the movement until its perfect. This dance stands out to me because it was the hardest and the judges hated it. Stating it was "too busy" and "too much choreography" I think competitions are the silliest and best things ever invented. You have this panel of people that can judge you harshly based on the simple fact that they hate the song or love the performance just because they enjoyed the costumes. People put way too much stock in competitions. I think this routine was supposed to be a deconstructed re-enactment of Britney Spears iconic performance. This is also probably one of the most "commercial" dances I have ever choreographed. Creating group pole routines can be a crazy and rewarding challenge. You, as a choreographer have to make sure you don't put anyone in a position to kill themselves or each other but still trust their athletic capabilities while still maintaining movement throughout. This wasn't their strongest run of this performance but they did their job. The audience will remember it and it was incredibly strenuous and entertaining. I appreciate judges for everything they do because it isn't easy to judge someone else's interpretation. On a level they were right but on a general world level, who cares. It's just dance and it may or may not have inspired someone.
What comes first during your process, the pole or the floor movement?  
This always just depends. I use the music and see where it wants to take me. Sometimes starting on the pole and sometimes on the floor. It is important to just start where the music tells you to start. If it is hard to come up with that then you need to find another song because the song you're using isn't speaking to you.
Since creating your first solo, how do you think you have grown as a choreographer? 
I am sure experience has changed my choreography but even more so I think it is age. Choreography is like wine and gets better with age. You stop worrying about the "tricks" and judgement and just want to be artistic and strong and move people. I want to share a part of my world with everyone. I think when you're young it's like Facebook. You share the best part of yourselves but as you get older you don't care about the ugly picture of you that your friend tagged you in or that others might be judging you. You just stop caring and that is the most powerful gift you can have when it comes to art and choreography. Don't give a fuck! This has made me so much stronger as a choreographer and that freedom is so important.
If you could give readers a piece of advice for creating their dance, what would it be?  
Know your music and that there are no wrong answers. Nobody can explain your artistic voice but you so don't worry what people think of it. If you love it you are on the right track. Make the world conform to your art and don't sacrifice your artistic expression to conform to the world.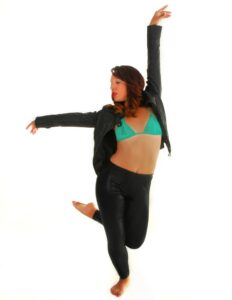 If you were hiring a dancer to perform your work, what would you look for in them? 
Freedom of expression! I am at a point where I don't want to see people dance like me. I want them to take my choreography and make it theirs. I want them to swallow it whole and murder the hell out of it. I love to watch dancers do my choreography. It is why I became a choreographer. Seeing others move to my choreography so differently is so beautiful. I share with you and you share with me.  I am not going to lie though. I love solid technique, strong feet, and lots of confidence. Those three things are guaranteed to get you a second audition no matter what.
What sort of time frame do you give yourself to create a new piece of work?
I choreograph on the spot. It is an interesting thing to do but I find when I know my music I pretty much already know where I am going with it. Every dance differs. Group dances generally take me a bit longer but when I am choreographing a solo I would say it takes probably 2-3 days with a bit of tweaking here and there.
Finally, what does pole dance do for you?  
Pole dance for me is a challenge; a great and amazing challenge. I get to combine my love of dance with a completely different art form. I find great pleasure in taking dance which comes so easily to me and combining it with pole which is still an art form I am continuing to learn and explore. True art and expression should always challenge you to learn more about yourself and others.
If you like this interview, you can subcribe to Marquette's on YouTube and  follow on Instagram. You can also visit the studio website to find out how you can train with Marquette.
To keep up to date with more interviews like this, don't forget to follow Pole Purpose on Twitter, Instagram, Google and Newsletter.