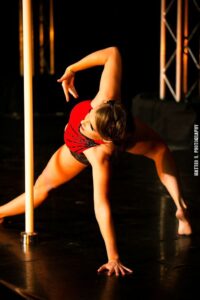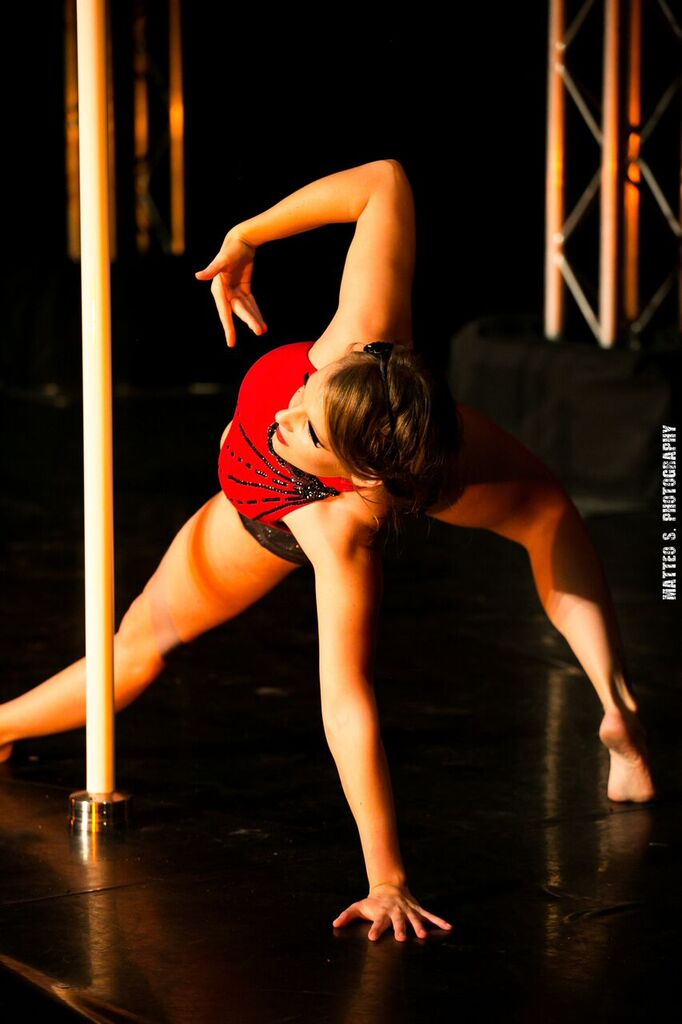 Clem Piller has been dancing from a very young age which came as a result of her mother taking her to ballet classes. Her passion for dance lead her into teaching dance to young people in the local village where she lived at the time. Clem loved teaching, but it eventually took her focus away from performing. However, when Clem took up Pole Dancing she was re-inspired and ready to perform in competitions such as Pole Theatre Switzerland and Pole Art France 2015. With an open attitude that is relatable to all of us choreographers and dance enthusiasts, Clem has been honest in her sharing and is bound to inspire you to dance.
Tell us a bit about yourself
I come from Switzerland and I'm 25. When I was 4 years old, my mom took me to my first ballet class. She told me I have to say I'm 5, because it was the limit to attend this ballet class – and the other girls didn't have to know I was 6 months too young to be there. 20 years later, my mom came with me to my first pole competition, and the second one, and I hope the third one … 😉
When did you choreograph your first piece of work?
I was always creating choreography for myself, dancing in my room and living room. When I was 14 years old, I asked a friend if she would like to teach dance lessons with me in my little village. She was 15 years old and as she was also motivated, we open a little dancing school, which stills exists today. In this period I was creating and choreographing my first dance pieces for groups of children.
What tends to stimulate your creative thoughts?
It can be music, sounds or something I see on the TV or on the internet… A feeling I want to express, for myself or for others… My creative thoughts can be really spontaneous.
When I watch your work I really see you connect with the pole even when you are away from it, is that deliberate?
When I dance, I try to be very conscious of my space. If there is a pole, it's part of my space. It's maybe not so deliberate because I have never formulated that, but listening your feeling makes me say you're probably right. If you sense the things around you when dancing, you can dance everywhere, in tight room or small space, you will develop the capacity to dance with other people – in groups or in duo. It's very important to be aware of those things.
What is your favourite part of the creative process?
In solo, my favourite thing is that in those first steps, when I am in the concept phase and I try to dance and film it. At first it just looks like shit (sorry). And then when I think about it, I know what I have to do and in order to tame my movements. I then see my work again and feel confident because in each rehearsal it comes closer to what I had in my mind! Alongside the creative process I'm working on technical tricks to improve my pole dance level, it's a big motivation for me, because I want to succeed tricks and new combos to put them in my choreography.
When I'm choreographing for the students I teach, I'm so excited to see how the girls will perform the movements I've created, and how she will love – or hate them. Then in the final phase of the process I see my girls dancing and interpreting my choreo in their own way is the best feeling.
What do you find most difficult about choreography and how do you overcome this?
Sometimes you are just blocked with a process you have to finish. Or the music doesn't inspire you… Or you just feel like you are repeating the same thing over and over. When I have this kind of problem, I watch a few YouTube videos of different styles of dancing (ballet, contemporary dance, modern jazz, pole dance). Then I take a completely different piece of music and improvise. Very often I can have new material that I have to alter to fit with the style and the.
The other difficult thing is to go out of your comfort zone: sometimes it's so easy to take the tricks and combos you already control. So I try to go to lessons and workshops to find new inspiration.
Who is your biggest inspiration and why?
I really think that my biggest inspirations are my students because I constantly have to create new choreography and combinations for them. It gives me a positive, active mind. On the other hand I have some good friends who are dancing and teaching who also inspire me.
I find inspiration from great choreographers and companies such as Ballet Bejart which is a Swiss company who I feel close to. In pole dancing, Marlo Fisken and Maxime Joret are great inspiration for me.
What, if any, do you think are the psychological benefits of creating your own work?
You still to stimulate your mind and your body, and when things are going how you've imagined them, it makes you feel very proud and confident.
https://www.youtube.com/watch?v=KKe-6y1K09o
You sent us your Pole Art Submission, can you tell us how you prepared for this work and what your process was like?
I don't think this is my best performance, but this is my first one in pole dancing. It has imperfections but I really like it because of the difficulty at the beginning, to keep dancing with the pole for 3 minutes and 30 seconds. At this point, I was pole dancing for less than one year. I think it can be good information for the girls who are doubting themselves because of their pole level : tricks don't make everything, otherwise I would never be part of a competition!
This piece was created for Pole Theatre in Switzerland – pole art amateur category. I've done this choreo with a really good friend who inspires me a lot – Mélanie Gobet, who's a professional choreographer. She helps me to express myself in the right way and to find new ideas where necessary. Now that I've done a lot of work, I've done 2 competitions: Pole Theatre Switzerland and Pole Art France. It helps me grow and I'm glad to receive the feedback from the judges and people in order to improve performance. My objectives now are really to improve and clean my pole tricks and try to find new way to do it – like I'm doing for the dancing and for choreography. Maybe I'll have the chance to do Pole Art competitions in 2016!
What comes first during your process, the pole or the floor movement?
The floor movements decide how the soul of my performance will look like… And then I add the pole tricks and intention of them.
Since creating your first solo, how do you think you have grown as a choreographer?
I think I have become much more confident, even though I know this area is not my strongest quality.
If you could give readers a piece of advice for creating their dance, what would it be?
I would say to dance, dance, and dance. In French there is a quote that says "L'appétit vient en mangeant". I think it's the same thing with dancing. The more you dance, the more you will be able to create new choreography by yourself. My advice is to start your training with a music you like and just move. Also, don't forget to film you in case you do something amazing ;). This also has the advantage of warming up your body and stimulating your soul!
I found this quote and I think it's nice… "Dance the dance you dance. Don't dance the dance people who dance dance."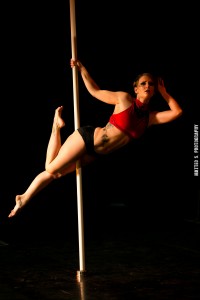 If you were hiring a dancer to perform your work, what would you look for in them?
If I have this chance, I would like to see that the performer with movements that come from his own body and emotion. Nothing is right or wrong in dancing, but if you dance from a personal place magic can happen. And for me there is also a difference between dancing and interpreting. The second one is more rare, but everybody can dance (yes, every body and not everybody J).
What sort of time frame do you give yourself to create a new piece of work?
Creating a new piece can go very fast, but then I need more time to adjust and to really know the choreo and to dance it well. A lot of time is needed to improve and to clean my pole tricks.
Finally, what does pole dance do for you?
Pole dancing made me dance again. I reached a point where I was tired of dancing because I felt that I had stagnated in my level and in my inspiration. When I started to pole dance in June 2014, I found a new way to express and to challenge myself.
To stay up to date with what Clem is up to you can follow her fabulous page on Instagram.
If you enjoyed this interview, sign up to Pole Purpose newsletter so you will never miss another one and don't forget to check out Pole Purpose on Instagram and Twitter.