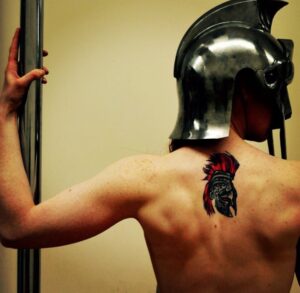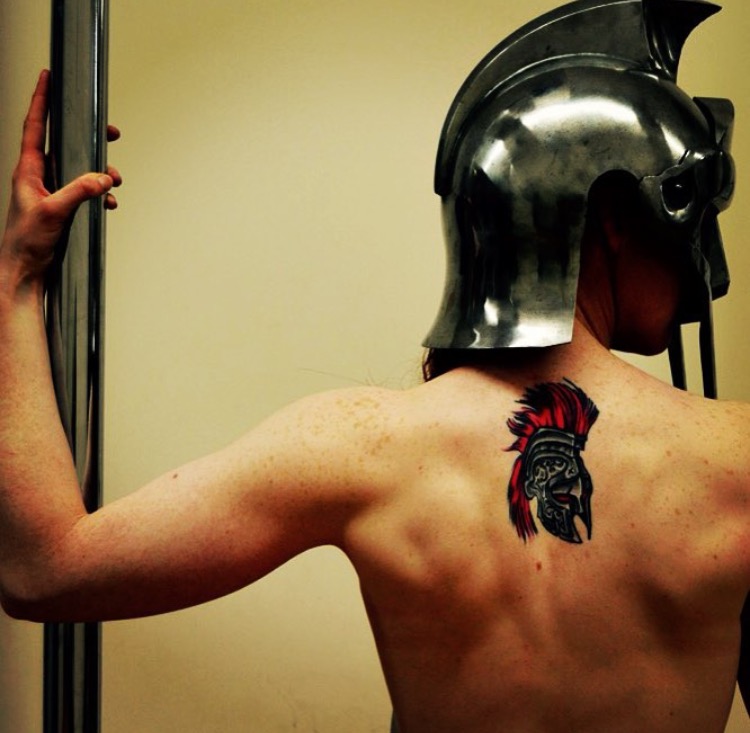 I am really excited to be featuring today's guest artist – Kathy Collins, AKA Spartan Pole Fitness. Originally from Omagh, Northern Ireland and now living in Liverpool, UK (where I am from) Kathy is a competitive pole dancer who willingly shares her pole experiences and training in order to inspire and motivate others. Although Kathy started at the exact same pole studio as me, we never really crossed paths in class, but we have performed alongside each other multiple times. Her strenght is inspiring and her use of themes in performance are entertaining and fun to watch.
Tell us a bit about yourself
I started pole dancing at age 27 because I was looking for a way to get fit, I wanted it to be different yet fun, and something I wouldn't get bored of. I first tried pole dancing at a hen party and discovered it was all of those things. In 2012, with an encouraging push from a friend I started classes in Liverpool at Ioisis Pole studio.
Since then, I have never looked back and have become a stronger more confident person, I notice everything I've learnt about myself through pole dancing, filtering into my everyday life making my life a lot more fun and interesting.
When did you choreograph your first piece of work?
I first choreographed and performed my own routine for a Cancer Focus Charity in Omagh in 2013. I had no dance or choreography background prior to the 17 months of pole.
The whole process was new but very exciting. I had a platform to show case the sport I had grown to love I didn't want to waste the opportunity to show my home town how hard I had worked and how amazing pole dancing was.
To learn about my pole strengths and weaknesses on my own through the choreography was an awesome experience. This was definitely the first step towards my Spartan pole style. You can see my first ever pole performance here.
What tends to stimulate your creative thoughts?
Music really stimulates my creativity, I would hear a song and instantly start building snippets of a routine in my head, I love when I have an emotional connection to the lyrics.
I'm drawn to songs with repetitive choruses, songs that strengthen and intensify as they build, I love trying to match the songs intensity with the moves and transitions.
I believe musicality is one of my strongest points, I love connecting moves to the music and lyrics and really trying to bring the song to life.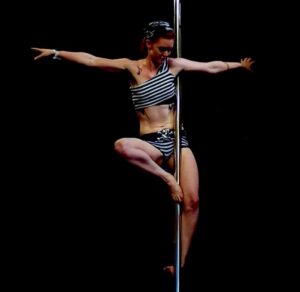 Themes are my specialty, they add an extra little challenge to choreography, you are no longer dancing as you because you are adopting a character and dancing as the character instead.
My Pirates of the Caribbean routine for the Miss Pole UK Competition Semi Pro 2014, told the story of a pirate whose brashness got her in trouble, leading to redemption after being given a second chance.
Once I had this story I wanted to make every aspect as pirate like as possible, I used moves that I thought would best portray a pirate including a one person sword fight, once again I focused on musicality and originality resulting in being awarded Best Entertainer in my category, I achieved this by working with the full capacity of my creativity.
I find freestyling to be another great way to stimulate my creativity helping me let go of my inhibitions and just moving about, improving the flow of the routines, you can end up with something really unique.
How do you think your experience as a choreographer has informed your pole practice?
Choreographing improved my pole practice in many ways, fluidity, strength and confidence. I am now more able to develop pole transitions combining power moves, tricks and flow, something I never thought I would get but the more I understood what I was working on the better I got and soon moves that I loved from afar became moves I practice daily, such as table top, shouldermount and iguana deadlift.
When you're creating a routine your training will be influenced by what you're trying to achieve, more so for competitions.
What is your favorite part of the creative process?
I really enjoy the excitement of having a brand new idea, when you're thinking about all the directions you could go with it, trying out new moves and transitions, brainstorming and that great feeling of really looking forward to seeing how it's all going to work out.
What do you find most difficult about choreography and how do you overcome this?
I find floorwork difficult, usually each routine I choreograph requires different styles of floorwork depending on theme or song so I tend to work out all the pole choreography first and then tailor the floorwork around it.
Who is your biggest inspiration and why?
I'm inspired by the pole dancing community, I'm inspired by everyone who's part of it and those who are encouraging and supporting each other to be great or to keep going and not to give up. From beginners to world champions everyone does it. We all have something different we want to share, teach and express. It's so inspiring to see it so welcomed in the pole community.
What, if any, do you think are the psychological benefits of creating your own work?
Creating my own work helped improve my focus, I can now choreograph routines faster. When I'm focused, training is more productive. There's a great sense of achievement when you have finished creating a routine, again you get to feel that same achievement when you get to perform it.
It boosts your confidence, you've worked hard and you have something to show for it which makes you want to start on the next idea
Your favourite performance is "Radioactive" can you tell us how you prepared for this work and what your process was like?
My favourite performance to date is my radioactive performance. I spend months listening to that song on repeat so that I knew it back to front. I used the beginning of the song to bring the radioactive feel to the performance, I worked hard to get the timing right for it, I was so happy with how it worked to enhance the performance. The song has 3 strong choruses so I started building the bigger combinations from those. I put together spinning combinations and added some of my favourite transitions and tricks. For the verses and fillers I slowed down my transitions and used more strength moves. This helped make the strong choruses stand out more. I felt like my style of dance, my style of choreography and my actual pole skills were all starting to work on the same level and it was all coming together.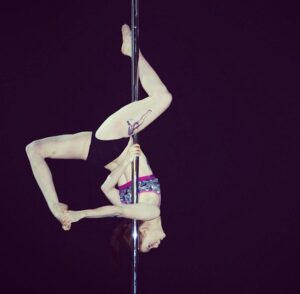 Do you have a particular creative method that you work from?
I don't have a particular method, every routine is different and needs a different approach. There is one thing I do the same for each routine. I have to listen to the song over and over again while I'm coming up with the routine. I like to know all the lyrics and beats and guitar solos and whatever else is going on, not just so I can put the routine together but it's also improves the performance. When you know the song inside out it makes it easier to memorise your routine and to visualise it while you're performing, and this is why I think musicality is a strong point of my routines.
I listened to one competition song 1185 times, when I performed it, the spinning pole was faulty so it didn't spin properly, and mid performance I had to alter areas of the routine. I knew the song so well, I was able to instantly and confidently change the routine and still portray the theme and keep the momentum of the routine going.
What comes first during your process, the pole or the floor movement?
The pole always comes first in my routine building, it makes up most of my routines so I always make a good start on that first, the hard part is when I'm up on the pole I don't want to come down so sometimes I don't always fit a lot of floor work in. I'm working on a new routine at the minute and I've reserved a section of the song for floor work as it's an area I would like to improve on.
Since creating your first solo, how do you think you have grown as a choreographer?
Since my first solo performance I can see a difference in the execution of my routines and my more recent routines have a lot smoother transitions. I'm more confident in my ability to create better structured routines that can fuse my creativity and my strength.
If you could give readers a piece of advice for creating their dance, what would it be?
Make it your own. We are all unique and choreographing a dance is a perfect outlet to be able to express yourself and create anything you can imagine.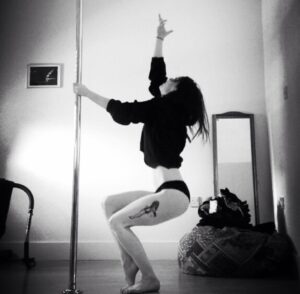 If you were hiring a dancer to perform your work, what would you look for in them?
I would look for someone who was passionate about pole dancing and someone who enjoys telling a story and entertaining people through dance.
What sort of time frame do you give yourself to create a new piece of work?
The time frame depends on when and what the routine is for, I've created a routine in a few hours and some have taken me months. If it's for a competition I like to have it ready at least 3 weeks in advance so it can be practiced and remembered although it does tend to get tweaked in that time period
Finally, what does pole dance do for you?
Pole dancing keeps me fit, clears my mind , keeps me focused, introduces me to people who have the same interests, it's fun and it's a really good stress buster. It gives me a creative outlet that I never had before and I'm pushing boundaries everyday physically and mentally that I never thought would be possible for me. All of this helps boost my confidence and keeps me motivated to keep getting better and better.
Pole dancing has helped me realize that I am more than I thought I was and more than people told me I was.
I am strong, I am confident, I am a Spartan.
For some amazing combos, pole motivation and fun training videos you can follow Kathy Collins – Spartan Pole Fitness on Facebook, Instagram and YouTube.
Don't forget to sign up to our Pole Purpose Newsletter for more fascinating interviews.